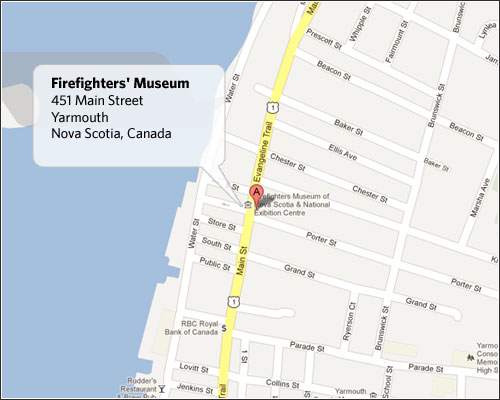 How to get here:
From Highway 101 or 103, follow the Firefighters' Museum signs to 451 Main Street, Yarmouth; located on the Evangeline Trail. View map»
Museum Closure | Friday, November 27, 2020
Due to the rising cases of COVID-19 in the province, the Firefighters' Museum of Nova Scotia will be closed to visitors starting tomorrow, Nov. 27th - to January 5th. We will re-evaluate at that time. The business office of the museum will remain open Monday - Friday 9:00am - 4:00pm. We are very sorry for any inconvenience.
Admission: (Fees are subject to change)
Adult: $5.00
Children 6-17: $3.00
Children (under 6): Free
Seniors(65+): $4.00
Family (Parents and school age children):  $10.00